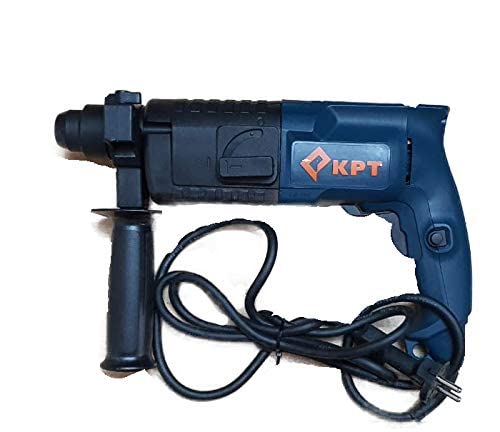 If you are in the construction and renovation industry then having the right tools can make all the difference. Among the wider range of crucial tools available for builders, the most significant is the rotary hammer. It is a versatile and powerful machine designed to drill through rigid materials such as concrete, masonry, and rock. In this category of power-based hammers, KPT RH 22 Rotary Hammer stands out as a prime product. It comes with engineering excellence, bringing together cutting-edge technology, robust design, and unparalleled performance.


Brief Overview Of KPT RH 22 Rotary Hammer:
The KPT RH 22 Rotary Hammer is a very nice and good quality piece of machinery that exemplifies precision and efficiency in construction activities. It is a product manufactured by Kulkarni Power Tools Ltd (KPT). This is a renowned company. KPT RH 22 Rotary Hammer Suppliers provide this rotary hammer meticulously designed to meet the challenging requirements of professional builders, and contractors.


Key Features and Benefits
High-Performance Motor: At the heart of this Rotary Hammer lies a high-performance motor. Hence, it delivers an impressive amount of power that promises smooth and rapid drilling even at the toughest materials.


Three Operational Modes: The KPT RH 22 comes with three distinct modes of operation. Every option is made to meet specific tasks. The drilling mode is ideal for drilling into sandstone, brick, and concrete, while the rotary drilling mode is perfect for boring through wood and metal.


Efficient Vibration Damping System: sometimes when used for Long hours the power tools can lead to user fatigue. The machine handles this concern with its efficient vibration-damping system. It reduces vibrations and increases user comfort, allowing for prolonged use without undue strain.
Robust Construction: The product boasts a robust and durable construction. It is built to withstand the rigors of heavy-duty use. This is making it a cost-effective investment for construction professionals.


Quick and Easy Bit Changes: Swapping out drill bits is very easy with this tool. This feature saves valuable time on the job site. Enjoy seamless transitions between different drilling tasks.


Variable Speed Control: KPT RH 22 Rotary Hammer comes with a speed control feature to cater to different drilling needs. This lets the user handle the tool's performance according to the material being worked on. Hence, it results in clean and accurate holes.


Integrated Dust Management: It comes equipped with an integrated dust management system that effectively captures and contains debris, decreasing the potential health hazards associated with airborne particles.


Applications and Versatility
• Drilling Holes for electrical tube, plumbing, or anchor installation
• Chiseling and Demolition for controlled work indispensable tool for breaking through concrete, masonry, and tiles.
• Fixture Installation with accuracy and efficiency in attaching items securely to different surfaces.
• Renovation and Restoration as safely remove old materials and create new openings.


How to buy a rotary hammer online?
Contact the leading KPT RH 22 Rotary Hammer Supplier. Ask some questions to assure that they are delivering only the best thing.
• Pricing and bulk discounts
• Warranty and service coverage
• Technical specifications and features
• Delivery timeframes and options
• Compatibility with existing equipment